EXCLUSIVE BEHIND THE SCENES DINING AND SUPERYACHT GLAMOUR
CELEBRATE WITH LOVED ONES ON BOARD THE ROYAL YACHT BRITANNIA AND FINGAL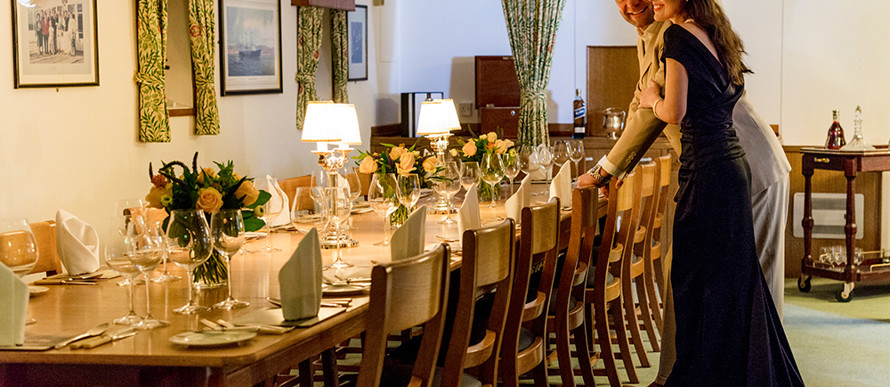 More than ever, we have realised that time with our family and loved ones is precious, and so many special occasions are just waiting to be celebrated.
This unique experience has all the art deco glamour of Fingal, plus the opportunity to have exclusive use of The Queen's former floating palace, The Royal Yacht Britannia.
Enjoy a personalised behind the scenes tour of Britannia, followed by a fantastic 4-course bespoke dinner in The Officers' Wardroom where previously the Royal Yacht's Officers would have dined, followed by a night cap on Fingal before retiring to sleep in one of our floating hotel's luxury cabins.
Adorned with silver artefacts on loan from the Britannia Officers' Wardroom Collection, and official Royal photographs, 'The Wardroom' is a unique and intimate setting in which to relax and picture days gone by when members of the Royal Family dined there as guests of the Officers.
Dining on Britannia is a once in a lifetime experience. From artisan breads to delicate petits fours, everything is made on board in the original Royal Galleys by our talented in-house team of chefs, led by Executive Chef Mark Alston. Mark is extremely passionate about the quality and provenance of the food he serves on board, and uses the very best Scottish suppliers, many of whom are Royal Warrant Holders.
Terms
Red carpet welcome aboard The Royal Yacht Britannia
Glass of Moët & Chandon Champagne & canapés on arrival
4 course bespoke dinner designed by our Executive Chef Mark Alston
Pre-select your wine in advance from our extensive list (extra charge applies)
Transfer between both ships
Dates subject to availability
Available for up to 6 guests from 2 separate households (in line with Government guidelines)
£250 per person (excluding accommodation and based on a minimum of 4 people with a minimum spend of £1,000)
This exclusive experience is only available to Fingal residents. Please call our team on 0131 357 5000 to choose the perfect cabin (extra charge applies)