AA Hotel of the Year Scotland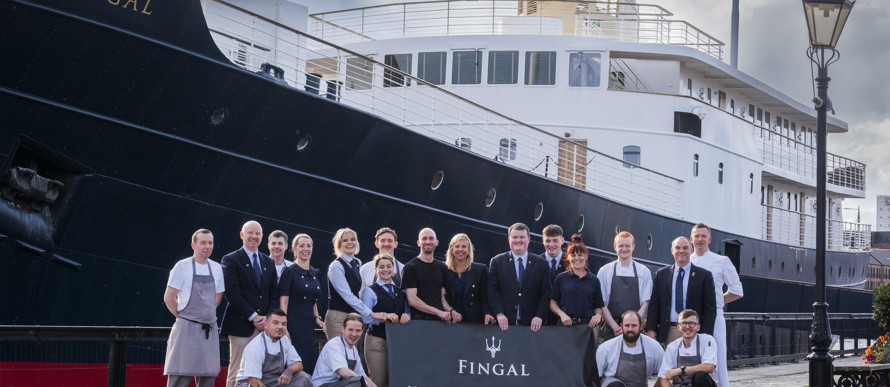 Press release

Date: Tuesday 26th September 2023

Edinburgh's Fingal crowned 'AA Hotel of the Year Scotland'

Scotland's only luxury floating hotel has been crowned 'AA Hotel of the Year Scotland 2023-24' by the internationally recognised Automobile Association (AA).

Permanently berthed on Edinburgh's vibrant waterfront, Fingal has sailed to the top of the AA's prestigious list of hotels in Scotland for the first time following a glittering awards ceremony in London on Monday 25th September.

This year's AA Hospitality Awards were staged at JW Marriott Grosvenor House and were hosted by TV presenter and broadcaster, Claudia Winkleman.

The AA Hospitality Awards span 15 categories, each curated and judged by AA inspectors to select the best hotels and restaurants across the UK.

The AA inspectors singled out Fingal for the top accolade and praised the exceptional quality of the ship's stylish interior design, meticulous attention to detail, unique maritime heritage, outstanding customer service and fine dining experience.

Opened in 2019, the former Northern Lighthouse Board (NLB) tender was developed and is managed by the award-winning team at The Royal Yacht Britannia. Fingal is now a world-class foodie destination with all the glamour and style of a superyacht, but with an air of old-world Art Deco luxury ocean liner elegance.

An AA Inspector said of Fingal:

"Fingal was built on the Clyde and has a rich history of service as a support vessel for the Northern Lighthouse Board. Now permanently moored in Leith and owned by The Royal Britannia Trust, the ship was lovingly restored and converted into the luxury hotel it is today with this process being respectful to the history and service of this ship.

"Unique luxury bedrooms cater well for the needs of the modern guest. Award-winning food with fantastic surrounding from a professional and skilful team. Great hospitality is shown as well as warm and genuine customer care. This is a hotel experience unlike any other that Edinburgh can offer."

Commenting on Fingal's continued winning streak, hotel manager Mari-Nel Scorer, said:  

"It's with great pride that Fingal has been recognised by the AA as Scotland's Hotel of the Year for our commitment to offering a world-class visitor experience to all our guests.

"This prestigious title is a real testament to the dedication and professionalism of our entire crew, who work tirelessly to ensure everything is shipshape.

"The inspectors paid particular attention to the exceptional quality of Fingal's stylish interior design, our meticulous attention to detail, unique maritime heritage, outstanding customer service and fine dining experience in the ship's Lighthouse Restaurant & Bar."

In 2022, Fingal was awarded the top five-star rating from the AA for the hotel and two AA Rosettes for its Lighthouse Restaurant, joining an exclusive list of only 43 five-star hotels with two AA Rosettes across the whole of the UK and Northern Ireland and is only one of 25 hotels around the country with an overall quality assurance score of 87% or above.

Open to non-residents for afternoon tea, dinner and cocktails, Fingal's Lighthouse Restaurant & Bar offers a choice of self-contained private dining booths for small pre-booked groups. Fingal's 22 luxury cabins are each named after Stevenson lighthouses, inspired by Fingal's rich maritime heritage. The ship is now the ultimate in luxury accommodation and dining with a nautical twist.

Fingal's double-height ballroom and bridge provide dedicated dining spaces for private events, corporate celebrations and weddings.

Fingal is located opposite the new Port of Leith tram stop, which offers a direct and quick transport link between Leith and Edinburgh city centre.

For more information on Fingal, visit www.fingal.co.uk and follow on social media, including Facebook www.facebook.com/fingaledinburgh, Twitter https://twitter.com/fingaledinburgh and Instagram https://www.instagram.com/fingaledinburgh

For more information on the AA Hospitality Awards 2023-24, visit https://aahospitalityawards.com

Ends
Media contacts:
Jonathan Perkins
jonjamesperkins@gmail.com
07894 711 515

Notes for Editors:
Fingal
The £5m investment by The Royal Yacht Britannia has seen this classically designed ship transformed to provide the ultimate in luxury.
Launched in 1962, Fingal, a former Northern Lighthouse Board (NLB) tender was the last ship to be built by the Blythswood Ship Building Company in Glasgow. Like all NLB Ships, Fingal was Leith registered but spent most of her service life working out of Oban for 30 years, followed by her last six working years, based in Stromness, Orkney. She was sold to a private owner who lovingly maintained the ship for 14 years before Britannia purchase the vessel in August 2014.
In 2022, Fingal won the 20th annual Tripadvisor Travellers' Choice Best of the Best Awards for the third year running. As well as being named one of the top 20 luxury hotels in the UK by TripAdvisor users, Edinburgh's Fingal also captured travellers' hearts as one of the top 25 most romantic hotels in the UK and Channel Islands for 2022, coming in at number 11 on the prestigious Tripadvisor category of most 'Dreamy stays that couples love'.